Discipline.
Teamwork.

Camaraderie. Just a few of the reasons to become a member of the
MAHS Instrumental Music Program.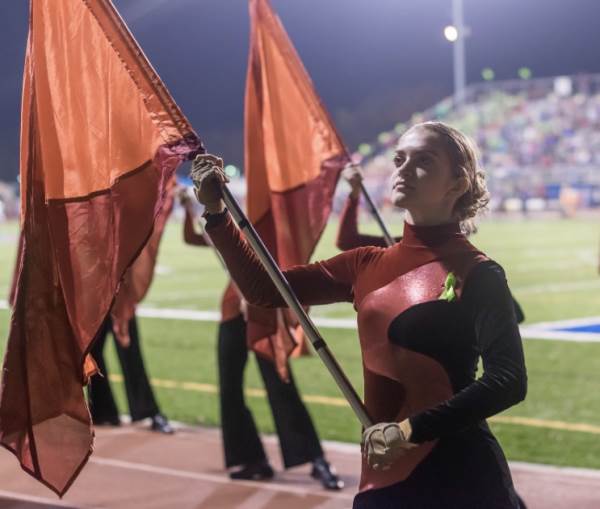 Christina Von Stein
Marching Band & Winter Color Guard - Class of '18
I am grateful to have such fond memories of my high school career thanks to 5 years of being in the MAHS Marching Band as a Color Guard member. I was Color Guard Captain in my senior year. I believe that without involving myself in the music program, there is no way I would have created the friendships that I did. After everything we have been through together, my band friends will be my friends for life. Band taught me the importance of time management, and it also taught me the significance of working hard in order to achieve my goals. I am currently majoring in Communication Sciences & Disorders, with a minor in German, and a certification in ASL at the University of Pittsburgh in Oakland. Even though I did not join Pitt's marching band, I did join the Moon Band Alumni - my true Band Family.
Olivia C Wall
Marching Band & Winter Color Guard - Class of '18
I was a 5-year color guard member in the Moon Area High School Marching Band & Winter Guard. This organization taught me many things. One, that has proved to be valuable, is that in life you will have to work with people from all walks of life. You may love them or not at first, but they could become your very best friends and family. In band, we all were after the common goal to be better walking off of the field at PIMBA Championships than we were walking onto it for the first day of band camp. I also learned that one of the best things anyone can do is to love and treasure music. On days of sorrow and days of joy, Mr. Barthen would never let that emotion go to waste. When all 100+ members of the band came together and put everything we had into a practice or performance, the result was like nothing anyone could ever imagine. Currently, I am taking these lessons I have learned and applying them at Youngstown State University while I work towards my undergraduate Music Education degree. I am also a color guard member in the YSU Marching Pride.